Last Updated on
Setting up a WordPress caching plugin is a must, but which caching plugin to choose? I chose two of the very best WordPress caching plugins and tested them thoroughly. I will compare WP Super Cache vs. Fastest Cache to determine which is faster.
Why I Chose to Compare WP Super Cache and WP Fastest Cache
Speed is one of the most critical factors that affect SEO. As an SEO professional, I want all my client's websites to be as fast as possible.
You must use a caching plugin on a WordPress website to achieve better website speed. Now the question is, which caching plugin is the best? There are so many of them, but I used WP Super Cache vs. WP Fastest Cache.
Automattic, a company that created WordPress, has developed WP Super Cache. It is one of the most popular WordPress plugins and is at the top among WordPress caching plugins.
WP Fastest Cache is also a very popular plugin but nowhere close to WP Super Cache in the number of downloads and installs. It has more than 1700 five-star reviews, which says a lot.
Features & Benefits Comparison
Aspect
WP Super Cache
WP Fastest Cache
Features
Page caching
CDN support
Preload cache
GZIP compression
Cache rebuilding
Advanced caching options
Page caching
Browser caching
GZIP compression
Minification of HTML, CSS, JS
CDN integration
Lazy load images
Benefits
Developed by Automattic (WordPress parent company)
Wide community support
Free and open-source
Effective caching
Easy setup and configuration
Comprehensive optimization features
Premium version with additional features
Frequent updates
Pricing
Free
Free (basic version)
Premium version available with additional features at various pricing levels
Technology
Caching using mod_rewrite or PHP
Utilizes Supercache static files
Caching using .htaccess or PHP
Minification of files
Lazy loading of images
I wanted to test and review both plugins. So, I ran a few tests using Pingdom. I also wanted to try them on my client's websites. This allowed me to test WP Super Cache and WP Fastest Cache on multiple web hosting companies.
How My Website Performed Without Caching
Before testing the caching plugins, I first tested my website performance without any caching plugins. Here is the result of my website without caching.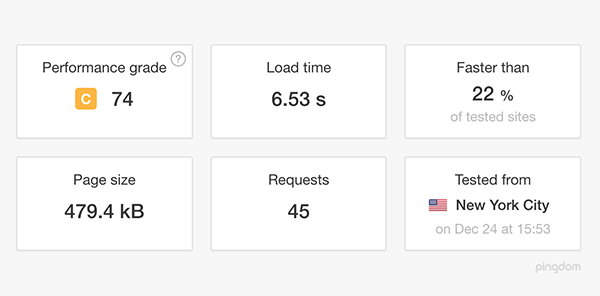 Yeah, I didn't believe my eyes either. This test result is horrible and will negatively impact SEO. My website was loading in more than 6 seconds. That's completely unacceptable.
Testing Performance with WP Super Cache
I wanted to see how WP Super Cache could improve my website speed. I installed and activated the plugin and set it up. The first step was to turn on caching.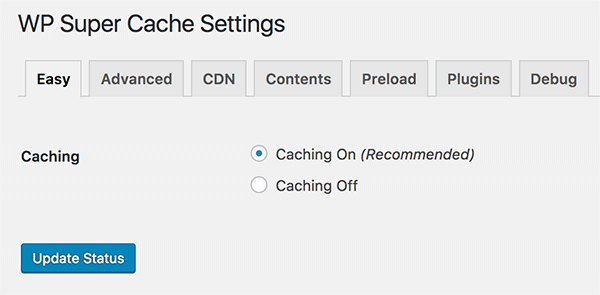 The second step was to enable gzip compression. Gzip compression is important because it compresses a web page before sending it to users, which makes the page download quicker.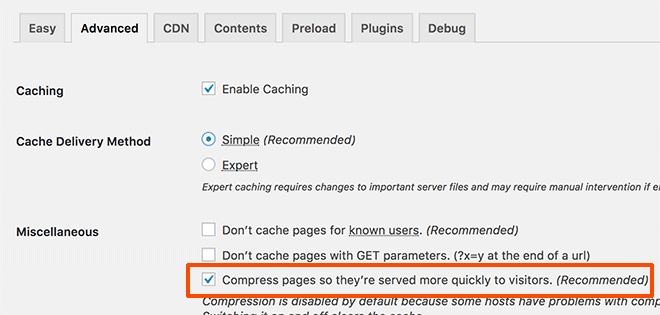 WP Super Cache has many advanced options, but I only wanted to enable page caching and gzip compression. I looked into minifying CSS and JS, but that was difficult with WP Super Cache.
After setting the WP Super Cache on my website, I tested it using the Pingdom tool. Here is the test result screenshot.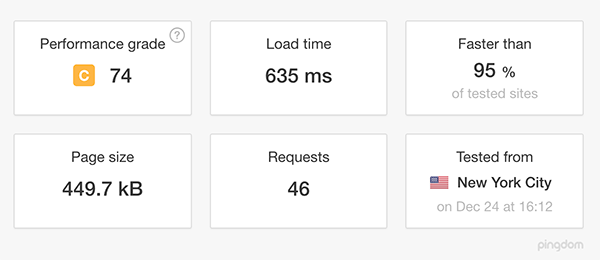 Yep, this result is much better. My website was now loading under 635 ms. It was now faster than 95% of all websites. That's amazing!
Let's see how WP Fastest Cache compares to such a great result.
Testing Performance with WP Fastest Cache
After installing WP Fastest Cache, I went to its settings. The interface looks much cleaner than WP Super Cache. I finished setting it up within a few seconds.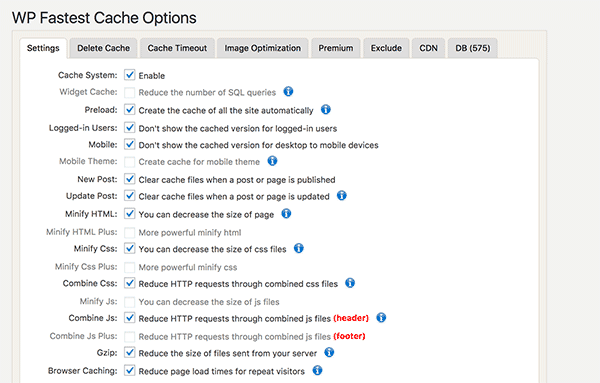 Note: I don't have the premium version of the plugin, just the basic free version. I noticed that they have many more options in their premium version.
After the setup, I visited the Pingdom website and ran the test. Here is a screenshot of my test result.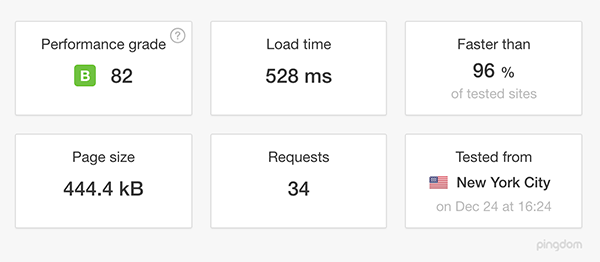 This result is incredible! My website was loading under 528 ms now, faster than 96% of all websites.
WP Fastest Cache simplifies combining and minimizing CSS and JavaScript files.
This means it reduces the number of page requests and lowers the page load time by a few extra milliseconds compared to WP Super Cache.
WP Super Cache vs WP Fastest Cache – Comparison Table
The following table shows values for WP Super Cache and WP Fastest Cache results on Pingdom.
| Metric | No Caching | WP Super Cache | WP Fastest Cache |
| --- | --- | --- | --- |
| Grade | C 74 | C 74 | B 82 |
| Load time | 6.53 s | 635 ms | 528 ms |
| Faster than | 22% | 95% | 96% |
| Page Size | 479.4 KB | 449.7 KB | 444.4 KB |
| Requests | 45 | 46 | 34 |
You can clearly see that WP Fastest Cache outperformed WP Super Cache in every aspect. However, the difference isn't too significant between the two.
Conclusion
I found both plugins, WP Super Cache and WP Fastest Cache, performed great. It can help with optimizing your website for better speed and SEO.
If you are already using WP Super Cache and are happy with the results, then you should keep using it.
If you want to improve your website speed or start a new WordPress website, I highly recommend WP Fastest Cache. I will use WP Fastest Cache on all my websites and recommend it to all my SEO clients.
I hope this case study about WP Super Cache vs. WP Fastest Cache offered you a proper comparison. If you want to try any other caching plugin, please check out this comparison of Nitropack vs. WP Rocket.