Last Updated on
If you're thinking about upgrading to Yoast SEO Premium from the free version, you're in the right place. As a long-time user of Yoast SEO, since I first began with WordPress, I've experienced its incredible feature set. In this blog post, I will compare Yoast SEO Free vs. Yoast SEO Premium and help you decide which one is right for you.
Yoast SEO Overview
Yoast SEO is a WordPress plugin that helps website owners optimize their content for search engines. It provides a range of features that make creating high-quality content optimized for search engines easier. These features include:
Keyword optimization: Yoast SEO helps you optimize your content for specific keywords, ensuring that your content is relevant to your target audience.
Content analysis: The plugin analyzes your content and provides feedback on improving it for search engines.
Readability analysis: Yoast SEO checks your content for readability, ensuring it is easy for your audience to understand.
Title and meta description optimization: This feature helps you optimize your title and meta description, ensuring they are informative and compelling for search engine users.
XML sitemap creation: The plugin generates an XML sitemap for your website. An XML sitemap tells search engines how to crawl and index your pages.
Breadcrumbs: Yoast SEO creates breadcrumbs for your website, making it painless for users to navigate your content.
Social media integration: The plugin integrates with social media platforms, allowing you to optimize your content for social media users.
Yoast SEO has a lot of features to make any website search-friendly. On top of that, you can also find plenty of tutorials from Yoast Knowledge Base and Yoast Blog.
Also, many SEO experts are more familiar with Yoast than alternatives such as Rank Math and All in One SEO.
How Good is Yoast SEO?
Yoast SEO works! It's an excellent plugin, for sure.
It has been the most popular SEO plugin on WordPress for quite some time.
Yoast SEO can help you write excellent content. It can make it easy for search engines to find and display your content in the search.
I will not lie; I have used this plugin for years. Also, I have installed Yoast on many of my client's sites, and it helped me improve their search performance.
Features & Benefits
Here is a side-by-side comparison of Yoast SEO free and Yoast SEO premium. I will try to include all the pros and cons of using each. You can also find a comparison table at the end of this post.
Yoast SEO Premium Features
Yoast SEO Premium is a paid version of Yoast SEO with extra features. Here are some of the features that you will only find in the Yoast premium:
1. Multiple Focus Keywords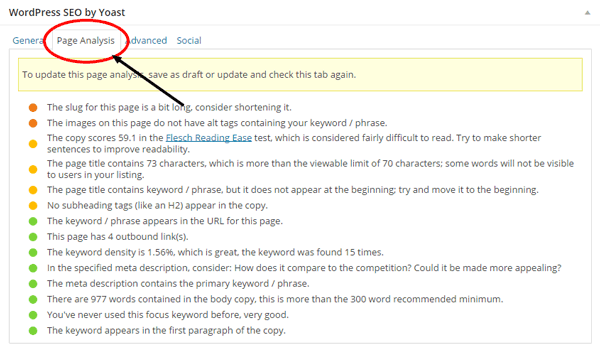 Yoast SEO premium allows you to set multiple focus keywords for a piece of content. You can add up to 5 keywords on each page.
A focus keyword helps you perform an SEO analysis on the page. The Google search algorithm does not read the focus keyword itself. Its primary function is to help users optimize SEO on a keyword you enter.
If you use multiple focus keywords on a page, Yoast SEO will suggest where on the page you can use those keywords.
While optimizing your content for multiple focus keywords, you might not be able to get all green bullets for every keyword. Because you have only a single meta description and URL, and you don't want to stuff these with multiple focus keywords.
2. Redirect Manager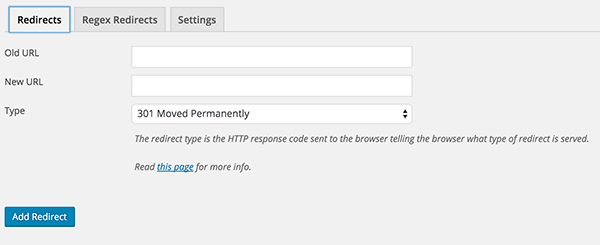 You may need to move or delete a post or page from your site at some point, which could be scary. Because when any user visits a dead URL, they will see a 404 not found error.
Therefore, it is essential to redirect dead URLs to the proper ones containing the most relevant information.
You can also inform your visitors that the page they are looking for has been deleted or redirect them to a temporary page.
With the Yoast SEO Premium plugin, it is easier to manage all of this from the WordPress Dashboard of your website.
While using the premium version of Yoast SEO, you don't need to get help from your developer to redirect old URLs; there's a redirects manager in the Yoast SEO premium from where you can fix these broken URLs.
This feature allows you to create REGEX (Regular Expression) redirects. These redirects help you to redirect a whole group of URLs that contain a specific word or phrase.
3. Internal Link Suggestions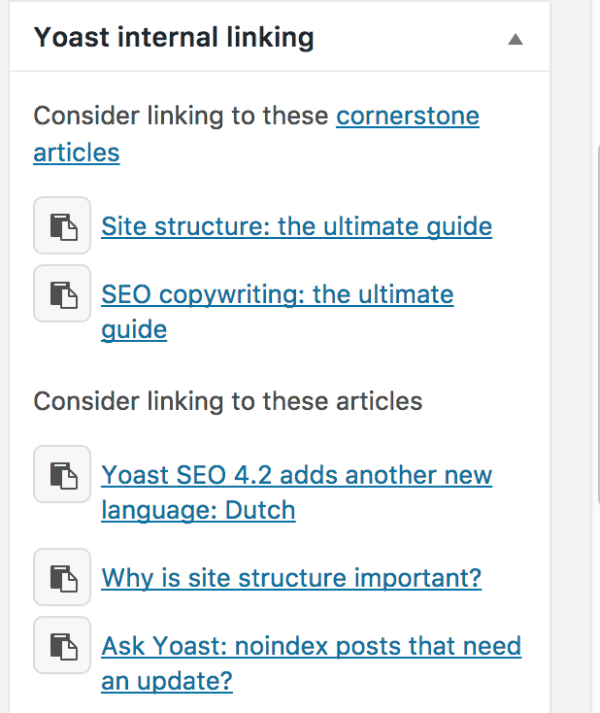 Internal links help your website rank better in search. It also allows Google to get your site pages indexed faster.
In Yoast Premium, you can use the internal link feature to link all your internal site pages.
Yoast Internal linking will show you suggestions to link to other relevant pages. Internal linking improves SEO and site crawling.
This feature could be quite useful for larger websites, such as blogs, eCommerce websites, and directories. When you are writing new content, Yoast will give you internal link suggestions.
4. Customer Support for 1 Year
One of the perks of using Yoast SEO premium is 24/7 customer support. You can send the team an email and get quick answers.
One year of customer support will help you improve your SEO knowledge. Also, it will help you learn how to use all the Yoast SEO features correctly.
One year of customer support could be valuable for beginners in learning SEO. You can email them whenever you have a question regarding a Yoast SEO feature. However, this WordPress customer support is good for only one year.
If you are using a free version then you can find plenty of help on the Yoast WordPress support forum.
5. Yoast Premium is Ad-free
Yoast Premium will solve this problem if you don't like seeing advertisements in your WordPress backend.
When you use Yoast SEO Premium, it will hide all Yoast SEO ads. Such as, if you use Yoast free, you will see ads for buying extensions, courses, and support from the plugin author.
Yoast SEO Free Features
Now, let's look at the key features of the Yoast SEO-free version.
1. Content Optimization
Yoast SEO is one of the best WordPress SEO plugins when it comes to analyzing content.
Once you enter your keyword in the focus keyword area, the plugin will analyze your content against best SEO practices. These practices include readability, keyword density, and outbound links.
However, unlike the premium version, you can input only one keyword in the free Yoast SEO. The signal lights scoring system lets you identify your content areas where you can quickly improve.
2. XML Sitemaps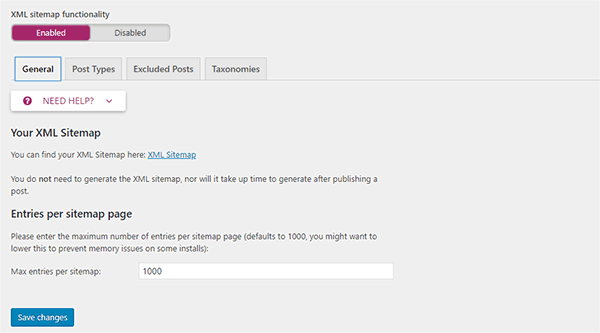 XML sitemaps help Google to discover your site pages. You will not get organic traffic if Google does not index your pages.
Google can still crawl and index pages without submitting a sitemap through the Search Console. However, it is recommended to always submit a sitemap
With the Yoast SEO plugin, you can easily generate XML sitemaps for all your pages. It is one of the best sitemap plugins for WordPress
You can use the XML Sitemap feature on Yoast Premium and free.
Publishing a new page or post will automatically include it in the XML sitemap. You can easily enable this feature by going to SEO and checking the option of "XML Sitemap."
Once you have enabled this feature, the plugin will notify the search engines whenever a new post or page is published.
After you generate a sitemap, you need to submit it to Google, Bing, and Yahoo.
3. Other Notable Features
You can use many features of the plugin for free except a few, which we have mentioned above in the premium features section. Here's a list of features that you can use in the free version:
Meta title
Meta description
Snippet Preview
1 Focused Keyword
Limited Readability analysis
Meta robots tags
Canonical URL (Read this post on what is a canonical URL)
Social tab without preview
Features Comparison
The following table compares Yoast SEO free with Yoast SEO premium.
| Features | Yoast SEO Free | Yoast SEO Premium |
| --- | --- | --- |
| Multiple focus keywords | ❌ | ✅ |
| Social snippet previews | ❌ | ✅ |
| Readability check | ✅ | ✅ |
| Breadcrumbs | ✅ | ✅ |
| Canonical URLs | ✅ | ✅ |
| Robots.txt | ✅ | ✅ |
| Htaccess files | ✅ | ✅ |
| Sitemaps | ✅ | ✅ |
| Plugin updates | ✅ | ✅ |
| Internal link suggestions | ❌ | ✅ |
| Content analysis | ❌ | ✅ |
| Redirect manager | ❌ | ✅ |
| Export focus keywords | ❌ | ✅ |
| 1-year support | ❌ | ✅ |
| Ad-free | ❌ | ✅ |
Yoast SEO Free Vs. Premium Pros and Cons
While both versions of Yoast SEO are powerful tools for optimizing your website for search engines, there are pros and cons to consider for each.
Pros of Yoast SEO Free:
It's free to use and provides a range of essential SEO features.
Beginners find the free version easy to use.
It can help you improve content readability and optimization.
Cons of Yoast SEO Free:
Yoast SEO free allows you to only optimize for one focus keyword.
You will not get advanced features like the redirect manager and internal linking suggestions.
It doesn't offer social previews, which can be useful for optimizing your content for social media.
Pros of Yoast SEO Premium:
Yoast SEO Premium offers keyword optimization features, including multiple focus keywords and synonyms.
You will get advanced content insights and analysis, helping you improve your content's quality and readability.
It offers a robust redirect manager to manage and create redirects.
Powerful internal linking suggestions help you optimize your website's structure and hierarchy.
It offers social previews, allowing you to optimize your content for social media platforms.
Cons of Yoast SEO Premium:
Yoast SEO premium costs $99/year. It comes at a cost, which may be a barrier to entry for some website owners.
It may have a steeper learning curve than the free version, as it offers more advanced features and settings.
Is Yoast Premium Worth it?
You can rank pretty much any website using the Yoast SEO free version. However, I recommend buying the premium version if you are new to SEO and WordPress. Besides that, getting fast customer support is another reason to consider purchasing the premium version.
If you can't afford to buy the premium version, then you can get the same premium functionality of Yoast SEO using these WordPress SEO plugins.
Feel free to share your thoughts in the comments regarding your reasons for choosing or not choosing Yoast SEO Premium.