Recently I changed the design of this website. I used the One-Click SiteGround staging environment to develop this website. So, in this tutorial, I am going to show you how you can also set up the Siteground staging step by step. By using SiteGround's Staging tool anyone can quickly set up a staging environment. Let me show you how.
First Things First: What is a Staging Environment?
I think if you are new to web development this looks like an alien term to you. So, Let me explain. Web development process goes through several stages before making a website live. A web development workflow usually looks like this:
Local: When you work on your computer (localhost) to create/code the website. It means you are hosting this website on your own computer. It is faster to load and you don't need an Internet connection to test it.
Staging: This is where you test the developed website for its full functionality before deploying it live. Also, it is a good way to show your clients or stakeholders recently implemented changes.
Production: This is where your actual website exists. It can be accessed by anyone if they have an Internet connection. You don't want to make changes to the live website because things could go wrong and your site could go down. So, always avoid production environment to make any changes.
Why You Should Use Staging Environment?
A staging environment is basically a clone of your live website. By using a staging environment, it is much easier to test major new features that you plan to implement. Most web developers use the staging environment as a testing ground which prevents issues occurring on the live website.
What is One-Click SiteGround Staging Environment?
To create and manage development copies of your website you can use the SiteGround staging tool. It is a great tool for people with less coding experience or new web developers. It will save you a lot of time.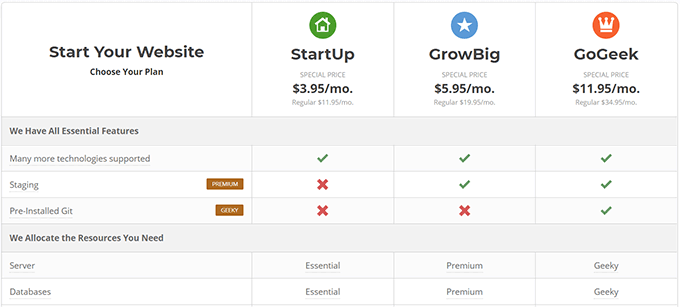 Note: One-Click SiteGround Staging is only available to GrowBig and GoGeek Plan users. And it only works if you are using either Joomla or WordPress.
If you are using WordPress then make sure to also check out this WordPress SEO guide to increase traffic and conversions.
How to Setup SiteGround Staging Environment?
If you are using SiteGround GrowBig or GoGeek hosting plan then staging tool can be found in the cPanel. Here's how to access and make a staging copy of your live website:

Step 1: Login to your SiteGround hosting Dashboard. Go to My Account then click on the "Go to Cpanel" button.
Step 2: You will find a new page with lots of options and tools. Scroll down and look for WordPress Tools and Joomla Tools. Pick whichever one of these platforms are you using and click on the "Staging" button.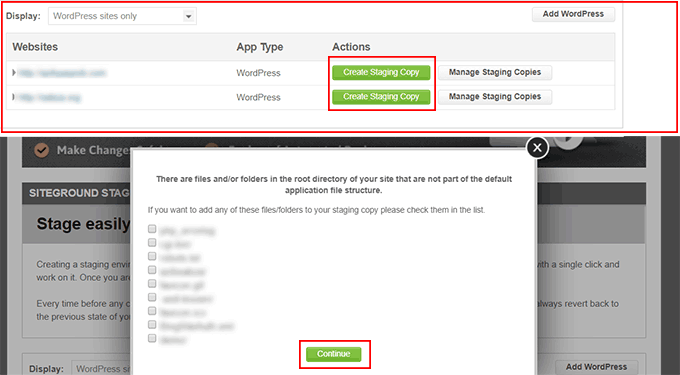 Step 3: Now it will show all the domain names that you have hosted using SiteGround. Click on the button "Create Staging Copy". It might show you some root directory folders and files which are not part of the standard WordPress install. Select files and directories which are essential. Click on the "Continue" button.
Step 4: Now, it will ask you to use password protection for this staging copy. Create a password and change the username to something memorable. Click on the "Continue" button.
Note: I would strongly recommend that you use password protection so search engines such as Google, Bing, and DuckDuckGo won't be able to crawl and index your staging copy.
Step 5: It will generate a staging copy of your live website. Now you can access it by clicking on the "Admin Panel" button. It will ask you to enter the username and password which we set up in the last step. Enter those details and press enter. You will be redirected to your staging WordPress login area. Please note down the URL so you can access and work on the website.
Move from SiteGround Staging to Live Website
Once you are finished testing, you can also use SiteGround staging to push the website live. All the changes that you made on the staging copy will be pushed live.
Simply click on Push to Live button from staging environment page.
It will display 2 different options Easy Push and Advanced Push. Let me explain what each of these options will do.
1. Easy Push
If you click on Easy Push button then your staging copy and its database files will overwrite your live site. For example, if you don't have anything important on your live website then this option is good for you.
2. Advanced Push
This option is used when you want to make certain database files live. So, when you push this button, Siteground will display all the database files from your staging environment and you have a control to add or remove them.
Destroy SiteGround Staging Copy
Similarly, you can destroy this staging copy when you are done by going to cPanel > Staging > Manage Staging Copies > Destroy.
If let's suppose you push the staging copy to the live website and somehow things didn't go as expected then you can always restore a backup. SiteGround staging tool creates a backup copy of your live site when you push staging copy live. You can access that by going to cPanel > Staging > Manage Staging > Restore Backup.
I hope you found this post useful. If you are using SiteGround then make sure to check out this post to reduce server response time on SiteGround hosting.
Get these blog posts in your inbox monthly