Last Updated on
Do you want to boost your Shopify store sales using Facebook Pixel and don't know how? In this tutorial, I will explain why your Facebook Pixel is not connecting with your Shopify store.
You might be facing errors when installing Pixel on Shopify, such as 'No activity yet' or "We haven't received any activity from your Pixel in this time frame.' Here are a few things you can do to fix those problems.
How does Pixel work?
Facebook Pixel divides data into events, and each event fires (starts) when a user acts on the site.
You can use this data for retargeting specific users in your Facebook ads. It helps improve your site's conversion rate.
If you haven't set up Facebook Pixel yet, check out my post on how to set up Facebook Pixel on Shopify.
Let's quickly check out some solutions to connect Facebook Pixel with your Shopify store.
1- Stop the Ad Block program
If you're using an ad block software or browser extension, then make sure to turn it off. Sometimes ad blockers stop advertising programs from working correctly.
It is worth a shot. When I use a browser extension such as adblocker or Ghostery, it stops Google Ads and Facebook Ads from working correctly.
2- Double-Check Your Installation
If you still don't see any activity on your Pixel, check out the Facebook help page to add Pixel to your store. Sometimes we forget steps that are necessary to make things work properly.
However, check out the next solution if your issue is still not resolved.
3- Did you add the base code correctly?
If you installed the Pixel using a code on your website, ensure everything between the
 <script> 
tags matches your pixel base code. If it is different than your base code, then quickly make changes to the base code.
4- Use the Facebook Pixel Helper
If your issue is still not fixed, try this method.
You should check if the correct events are firing throughout your Shopify store.
Download the Facebook Pixel Helper extension for the Chrome browser. Now, log into your Shopify store and browse your store. After each page visit, you should click on the 'Facebook Pixel Helper' extension icon.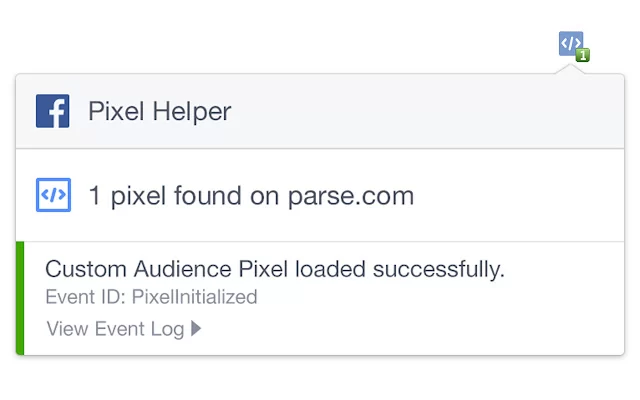 Note: When a website has a Facebook Pixel installed, the '< / >' icon in your browser turns blue, and a small badge will appear indicating the number of pixels found on the page.
It will tell you exactly what problems your installation has and how to fix them.
If you are having trouble with SSL on your Shopify website, read this article on how to fix the SSL unavailable error in Shopify.