Freelance SEO Consultant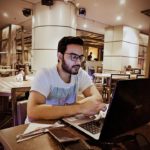 I am Azib Yaqoob, a freelance SEO consultant and a reputation management expert.
I created my first blog about 8 years ago.
The purpose of that blog was to improve writing mainly.
When I started blogging, I learned a great deal about conversion optimization, online reputation management, marketing, and SEO.
I improved SEO experience by mainly testing different SEO techniques on my projects.
When I was writing for my blogs, some local clients approached me to write them a few articles for their business. That's how I started my freelance SEO career.
Later, I realized that writing wasn't for me so I became a freelance SEO consultant because:
I knew, I was good at marketing
SEO
& reputation management
I started providing SEO services online through social networking and Job bidding websites.
In the beginning, I struggled a lot to get consistent SEO projects. I was about to end my freelance career, but I thought, why not give it one last shot.
Since it was my last try, I gave extra effort without thinking about failure or success.
That motivated me enough to work for like 16 hours a day. I gave extra effort to make every client completely satisfied.
About a year later, now I am quite focused to further extend my career as a freelance SEO consultant. I deliver exceptional results at a reasonable price.
SEO is all about patience, all my clients understand that and I tell every new entrepreneur the same thing. If you want to improve your website's organic search traffic, you would have to wait.
Of course for instant results you can  always try other marketing services such as PPC advertising, & influencer marketing.
Working as a Professional Freelance SEO Specialist
I help people who run small businesses and struggle to attract visitors to their websites. I improve their website SEO and traffic.
Always keeping myself aware of the latest Google algorithm changes.
I follow Google's webmaster guidelines for SEO. That's why my clients always trust my work. They regularly recommend my SEO services to their friends and colleagues.
Since 2009, I have been solving online business problems for my clients. So, I have a great experience and still learning something new every day.
I work hard and always deliver excellent quality work to each client. I believe in developing a long-term business relationship with my clients.
Professional attitude and good business ethics have helped me build trust and create a bond with clients.
Why do I work as a freelance SEO expert?
The short answer would be, I love to help people. Besides, it gives me the freedom to do business as I like. That's what keeps me apart from other companies who provide same services but with less passion.
I love promoting businesses. It doesn't matter if it is mine or someone else business. It feels great when you see a business grow.
That's why I help people with SEO and digital marketing so their businesses can make huge profits.
What SEO and Reputation Services I Offer?
White hat link building
SEO keyword research
On-page SEO services
Reputation management services
Monthly SEO Services
Where I have Worked before?
I have worked with local clients here in Karachi, Pakistan as well as international clients from:
USA
UK
Germany
Australia
Dubai
France
Most of my clients are happy to work with me because I deliver results. When they see results after only a month of SEO, they want more.
I have clients who have been working with me for over a year and they bring me more business.
Whom I have Worked With
Music production houses
Application developers
Independent video producers
Marketing agencies
Web development agencies
Independent webmasters
Small businesses
How much do you charge for SEO usually?
My rates are competitive, I charge according to client's requirements. SEO is an ongoing process, if you want real growth, then you would have to pay for it.
SEO is the best investment you can make to boost your online business.
Do you offer SEO for a local business?
Yes, my SEO services are mostly targeting small business which needs a little SEO push to get in the right direction.
Local SEO services can boost your sales both offline and online. Any business which is targeting a local region can benefit from local SEO services.
How do you measure results?
It is important for an SEO expert to measure all the KPI's and to report them to their clients.
Some SEO agencies use confusing metrics to report SEO results, so they can easily hide their incompetence.
On the other hand, I make sure to use KPIs that my every client can understand easily.
I use Google analytics to measure different parts of the results and show complete results of my SEO campaign at end of the month.
Why these key metrics so important in SEO?
Metrics simply helps you understand what pages of a website are generating more revenues, and what can be done in order to improve sales and ranking of a website.
Google Analytics is my favorite tool to measure key performing indicators.
What link building methods do you use?
I first ask my clients what their scope and understanding of SEO. Because quality is subjective to each individual. A link that is of high-quality in my perspective could be a cheap link in someone else's opinion.
However, I make sure to write great quality content that goes with the links and I only submit a link to relevant and high-quality websites.
Which SEO tools do you use?
I use different SEO tools to measure KPI's and perform SEO. Tools differ by a campaign to campaign basis.
What sort of backlinks do you make?
I create white-hat backlinks on high-quality related websites.
All links are created manually using the best SEO practices.
Every link is created using the high-quality content.
Usually, these links also bring direct traffic to a website.
If you want freelance SEO service for your business, then get in touch now.