Are you looking for an SEO expert that deliver exceptional results? I can help you boost your traffic and sales.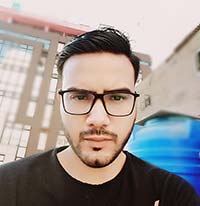 I am Azib Yaqoob from Karachi, Pakistan. I am a digital marketer – I help businesses boost online sales, traffic, and signups.
I am working as an SEO expert for more than 6 years.  I test new techniques and ideas so that I will be able to boost even more traffic to my clients' sites.
I have helped hundreds of brands grow their organic traffic and solve traffic related issues. Check out what my clients say about me here.
How I started my career as an SEO expert?
I created my first blog about 8 years ago. The purpose of that blog was to improve writing mainly.
When I was writing on my blog, some local clients approached me to improve SEO of their websites. That's how I started my freelance SEO business.
SEO is all about patience, all my clients understand that and I tell every new entrepreneur the same thing. If you want to improve traffic then it will take some time. 
Of course, there are other ways to promote your business online fast, you can always try other marketing methods such as PPC advertising and influencer marketing.
Which SEO techniques do you use?
I use only proper white hat SEO strategies. I follow Google's webmaster guidelines. I understand factors which search engines consider to rank a website higher in the search results.
Why do I work as an SEO Specialist?
The short answer would be, I love to help people. Besides, it gives me the freedom to do business as I like. That's what keeps me apart from other companies who provide same services but with less passion.
I love promoting businesses. It doesn't matter if it is mine or someone else business. It feels great when you see a business grow.
That's why I help people with SEO and digital marketing so their businesses can make huge profits.
What SEO Services I Offer?
I offer a variety of services. You can always send me an email to ask about anything. But if you want to know what services I offer, then here are some:
Where I have Worked before?
I have worked with local clients here in Karachi, Pakistan as well as international clients from:
USA
UK
Germany
Canada
Australia
Dubai
France
Most of my clients are happy to work with me because I deliver results. When they see results after only a month of SEO, they usually want more.
I have clients who have been working with me for years and they send me more referrals.
How much do you charge for SEO services?
My rates are competitive, I charge according to client's requirements. SEO is an ongoing process, if you want real growth, then you should not hesitate to invest your money in SEO.
Hiring a freelance SEO service provider is the best investment you can make to boost your online business.
If you have further questions for me, then please feel free to read FAQs or send me a message.