Last Updated on
If you are struggling to hire a freelance SEO service provider to boost site traffic, then this article will help you a lot.
Who is a freelance SEO service provider?
Any person who offer SEO services on a remote basis considered as a freelance SEO manager.
What's the job of a freelance SEO?
The job of a freelance SEO service provider is to improve website's organic search rankings. To achieve this goal, they use different SEO techniques:
On-page optimization
Site-wide SEO analysis
Content analysis
Website structure analysis
Internal link structure
HTML tags analysis and optimization
I have interviewed a couple of my entrepreneur friends and found tips which can help every small business owner to find the perfect freelance SEO expert.
If your website traffic look like this on Google Analytics: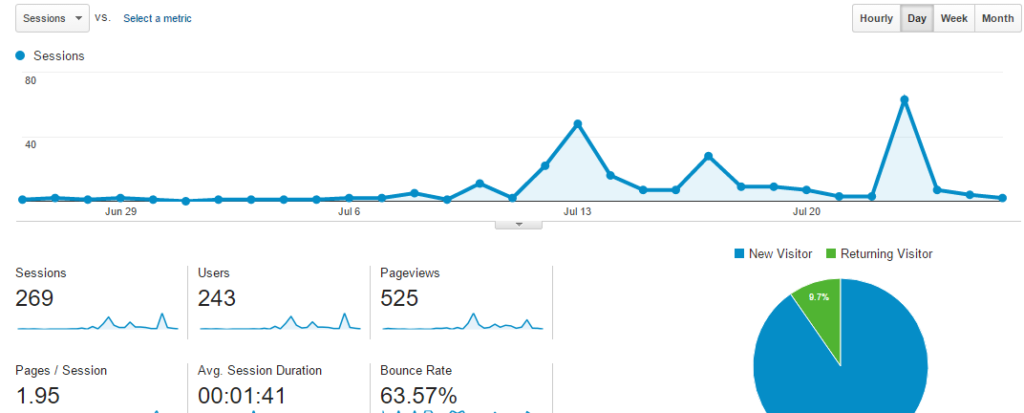 Then you should definitely consider hiring a freelance SEO service provider.
But how to hire the right Search engine optimization expert?
It is difficult to select the right candidate for the job. It happens all the time, especially to small business owners.
Hiring a freelance SEO consultant is not so different as well.
If you want to hire the right SEO specialist to take care of your website traffic then you can use these methods.
1. How to find a freelance SEO service provider using Google search
It is the best way to hire a freelance SEO service provider. You just need to type in a few words like "freelance SEO service provider" or "freelance SEO specialist (your city)". Replace the city name with an actual city name where you live. You will find a lot of SEO specialists who can help your business grow. You can also download search results to CSV file.
However, you should test the SEO knowledge of the individual/agency you want to hire.
Contact those websites and ask for help. If the company or a freelancer is not willing to show interest in your business or have no idea how to tackle SEO errors on your website, then find another one.
2. How to find freelance SEO services Using Social media
Submit your job post on relevant Facebook and LinkedIn groups.
You can also ask your friends, colleagues or any business savvy person in your contact list for the recommendation.
Create a job post on your business social media accounts, blog, email newsletter, etc….
3. Use Local networking events
Join local networking events in your field. There must be someone from the marketing industry.
That's how most freelance SEO businesses establish their identity and generate new leads for their business.
Invite them for a cup of coffee or schedule an interview at your office.
Ask questions which will help both of you understand the actual SEO job. Ask them questions like how do they create backlinks, what SEO tools do they use, etc…
Most SEO professionals have a portfolio of results and case studies which they can show you upon request.
4. Find SEO service provider using Bidding sites and job boards
These sort of websites are good to find cheap labor outside of your country especially if the country you are living in has a higher minimum wage.
Introduce your business and your end goal before hiring a freelance SEO.
Post your job with a few questions.
Encourage your candidates to ask you questions about the job.
If the candidate has genuine interest, he will ask intelligent questions about your business.
What link building tools they use
Which websites they have ranked in the past.
I hope you find this article useful. Please feel free to share it as you like.
P.S: If you are struggling to promote your business online, then I also offer freelance SEO services, which can help your business grow. Please get in touch to get a quote for your project.