Do you use all the Yoast SEO plugin features in WordPress? Well, in my personal opinion, you shouldn't use all the features of Yoast SEO plugin. Why? Those SEO features are not meant to be used by every website and some of them are outdated.
Yoast SEO is one of the best free WordPress SEO plugins. However, some of its features can make your content looks over optimized. Google doesn't like over optimized content. So it is quite important that you should focus your pages/posts for your target audience, not for search engines.
Some features are supposed to be used by specific kind of websites. If you have a small business website you wouldn't need those Yoast SEO plugin features.
Ryte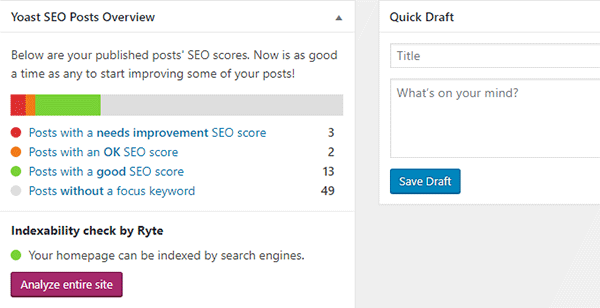 This feature supposed to notify you as soon as your website has indexing issues. You can also use their online tool to perform content and SEO audit. You have to fill out signup forms to get started with this tool. It is a third party service for on-page optimization audit.
I personally don't find this feature to be useful as it usually doesn't notify me when websites have indexing issues. And there are better content and SEO audit tools, I think it is a useless feature. It doesn't impact your website ranking in any way.
Force Rewrite Titles
If your meta title output is not correct, then you can use this feature to force rewrite meta titles. For example, your brand name is showing up twice in search results or getting double titles. In that scenario only you need to use this Yoast SEO plugin feature.
If still you are facing issues, you can contact your theme developer or plugin author to resolve the issue.
Readability Analysis
I was quite used to this feature before but lately, it doesn't make any sense. Using readability analysis can sometimes result in over optimization. Also sometimes it is impossible to pass the readability analysis test due to the nature of the topic. Not every topic is a simple how to tutorial. So, in my opinion it should be taken as lightly.
Your should write content in a concise and easiest manner. Divide your content in multiple headings, subheadings and use shorter paragraphs.
Keyword Analysis
This features remove boxes to add Meta keywords and focus keywords. Some SEOs advice that Meta keywords shouldn't be used anymore and some says otherwise. It comes down to your own preference whether you want to add meta keywords to your post or not.
Author archives
You can find this option by going to Title & Metas > Archives > Author Archives Settings > Author Archives. This feature is supposed to be used by big publications/blogs who have multiple authors writing content on the website. If your blog has 1 author, then this feature is not necessary to use. Disabling it will redirect your author page to homepage.
Date archives
This option can also be found under Title & Metas > Archives > Author Archives Settings > Date Archives. Disabling this feature will save you from duplicate content issues.
Unnecessary taxonomies
You can set noindex,follow on taxonomy pages such as post tags, categories, etc.. I personally use those taxonomies so I let them indexed by search engines. If your website structure is messed up with irrelevant post tags, and categories you shouldn't be using this feature.
Yoast Breadcrumbs
To add breadcrumbs to your theme, you may need to change a few settings and add PHP code too. When using Yoast breadcrumbs feature my website was acting up a bit.
I had to manually add breadcrumbs everytime I wrote a post. So I started using different NavXT plugin to show breadcrumbs. This plugin is far easier to customize and there is a lot documentation on the plugin author's website to customize the outlook of breadcrumbs.
Greenlight obsession
Making all the lights green on Yoast interface won't rank your post on the 1st position. This feature when introduced was quite useful but, I don't think it is as accurate anymore it was before.
It's up to you whether you use this feature or not. However, I would advise you take it lightly.
If you want to further optimize your website, then You can also check out these best WordPress XML sitemap plugins.
If your content sucks, then no plugin, developer or an SEO can help you rank high. Make sure that your content is always the best and it answer the question your user has searched on Google. If your website is still not ranking, you can always buy quality backlinks to improve the ranking.