Looking for a way to submit a sitemap to Google, Bing, Yahoo, and Yandex? Submitting an XML sitemap is an important step in SEO.
Although, search engine crawlers can easily find your pages through internal links or links from other websites(backlinks). However, most search engines recommend submitting an XML sitemap so crawlers can regularly crawl and index your website's new pages.
If you are using WordPress, you can use any of these XML sitemap plugins to generate a sitemap.
If you are using some other Content Management System (Shopify, Drupal, etc.), then you can read their documentation. You can also create an XML sitemap manually.
After creating a sitemap, you can submit the sitemap by following this process:
What is a Sitemap?
To tell search engines about new web pages ready to crawl, we use Sitemaps.
It is a collection of URLs in an XML format. Sitemaps can also provide extra information, such as the page's last modified time, last update time, and which pages are more important to crawl by setting a priority.
Submit XML Sitemap to Google
Step 1: Create an XML sitemap manually or through a plugin or an extension.
Step 2: Copy the end URL sitemap.xml or sitemap_index_xml. It depends on which method you choose to create a sitemap. Make sure you are landing on the XML sitemap using the complete URL.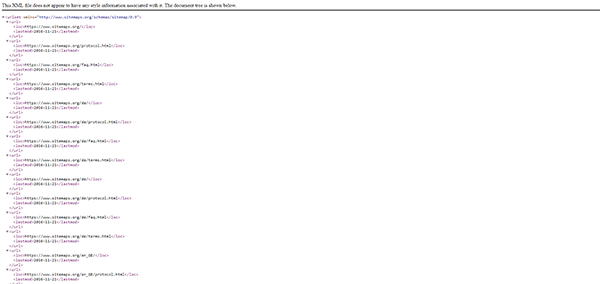 Step 3: Go to Google Search Console > Crawl > Sitemap. Enter the URL of your sitemap and press the submit button.
Step 4: Refresh this page; it will display all your website's submitted pages.
Note: Google will take some time to crawl and index those pages. It depends on the number of pages that are ready to be crawled. Read my Google Search Console guide to follow the latest process.
Submit XML Sitemap to Bing
Step 1: Generate a sitemap and copy the URL. Login to your Bing Webmaster Tools Account.
Step 2: Look for the property where you want to submit the sitemap.
Step 3: Look for the option from the sidebar menu 'Configure My Site' and click on Sitemaps. Here you will find a box that says submit a sitemap. You can paste your complete sitemap URL and click the submit button.
Wait for a few weeks, and Bing will start indexing your website's pages.
Submit XML Sitemap to Yahoo
Submit your site via Bing Webmaster Tools. You don't need to submit a sitemap to Yahoo if you have already added a sitemap to Bing.
Your content can take around 8 weeks to show up in the Yahoo Search after sitemap submission.
If you particularly want to add a sitemap to Yahoo, then no such process is available. Follow the Bing submission steps to add a sitemap to the Yahoo search engine.