Last Updated on
Removing a domain name is quite a simple process. However, most domain registrars have a different method for deleting a domain name. In this post, I will show you how to remove a domain name from any domain registrar company easily.
First, let me answer a few questions that might pop up in your mind.
What happens when you Remove a domain name?
Once you delete a domain name, your registration of that particular domain gets terminated. After that:
When someone visits your domain, they won't see your website.
If you had set up an email address using that domain, you wouldn't receive any more emails.
After a grace period (typically 30 days), anyone can purchase your domain name.
What Happens to Domain Ownership Information?
If you do not have domain privacy protection, it gets a little complicated to erase your domain ownership information because bots upload this information to various online databases. You have to contact each website to get your domain ownership removed.
However, if you have domain privacy protection, your ownership information will be saved, and you don't need to worry about it.
How Long Does it Take to Remove a Domain Name?
Usually, it takes five days to delete a domain name. It depends on your registrar, how they process your request, and how they handle the deletion process.
How to delete My Website from Google?
I have written down a post about this topic, discussing how to ensure your website is completely removed from Google. Please give it a read. Hopefully, it will answer your question.
I hope I answered some of the questions. I will show you each domain registrar's domain name deletion process.
Remove a Domain Name from GoDaddy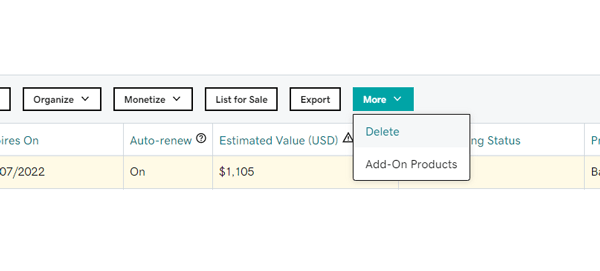 Sign in to your GoDaddy Domain Control Center.
Check the box next to the domain you want to delete.
Select More, then click on 'Delete.'
Confirm by clicking Yes; I consent to delete the selected domains.
Select Continue.
Remove a Domain Name from Bluehost
Sign in to your Bluehost account.
From the top menu bar, select Domains.
'Select' the domain that you want to delete.
Click on the Un-assign option.
It will ask for confirmation; click on the Unassign button.
Remove a Domain Name from Google Domains
Sign in to Google Domains and Select your domain name.
Open the menu, and click on Registration settings.
Scroll down to Delete domain.
To the right of the "Delete domain," click Delete.
Sign in again to confirm your identity.
Review the restrictions, click Yes I'm sure, and delete the domain.
Remove a Domain Name from HostGator
Login to your HostGator Control Panel. Click on the Domains.
Select a domain that you wish to delete.
Click Order Details.
Click Delete Order link.
Confirm the deletion by clicking the Delete Order button.
Remove a Domain Name from Namecheap
Sign in to your Namecheap account.
Select Domain List from the left sidebar.
Click the Manage button.
Select the Cancel option.
Enter your Namecheap account password and click Confirm.
Remove a Domain Name from DreamHost
Login to your Dreamhost Dashboard.
Navigate to the 'Websites" page.
Click the Manage button for the domain you want to delete.
Select the Hosting tab.
Select Permanently Delete Domain.
Click the Proceed with Deletion button.
Remove a Domain Name from Shopify
Note: You must contact Shopify support to remove a Shopify-managed domain name. For a third-party domain deletion, follow the following process:
Sign in to your Shopify account.
Go to 'Online Store,' then select Domains.
Select the domain you want to remove from the 'Third-party domains' section.
Click Remove to confirm the deletion.
Read my post on how to remove negative Google search results if you want to delete a page forever. I hoe this post helped you to remove your domain name. If you have any questions, please feel free to let me know in the comments.