Have you recently created Google My Business listing and looking for some ways to get a higher ranking? In this post, I am going to share with you easy tips to create optimized Google My Business listing and rank them in the local pack results.
Without ranking on the 1st page on your business keywords, you won't get as much business as you should. So, your listing, as well as the website, need to be completely optimized. I am going to show you how you can make it possible.
What is Google My Business Listing?
Google My business is a free service to show your business location on the map. When people search for a keyword related to your business, your GMB listing will come up in the search results. So, it is quite important to have a GMB listing especially if you're a local business.
It is quite easy to use, you can easily manage your business listing through a laptop or a mobile device.
You can also use Google ads to display your Business listing on top of Google Maps when people search for your business keywords.
There's an "Insight" feature in Google My Business to track traffic on your business page.
How to Create Google My Business Listing?
The process is fairly simple. However, for the best results, it is crucial that you fill out all the details as much as possible. Let me show you how you can create optimized Google My Business page:
Note: You need a Google account to create a Google My Business page for your business.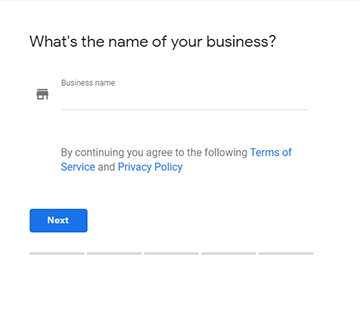 Sign up for Google My Business with your Google account. They Will Ask to provide your business name. Add your actual business name which is recognized by your existing customers.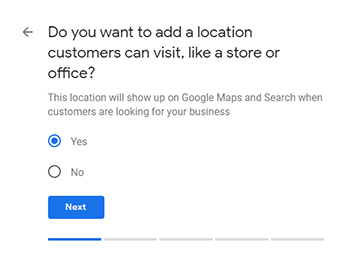 In the next step, add business location so that Google can show your business on Google Maps. If you don't own an office or a shop, don't worry you can still create a business listing.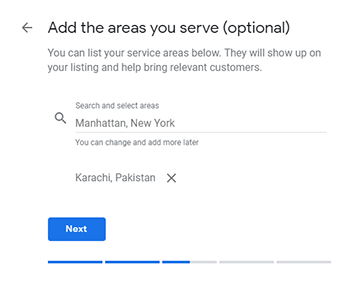 After adding your business location, they will ask "do you also serve customers outside this location?". This is good for businesses who go to customers' location to provide services/products. Add areas and neighborhood where you provide services.
Type the category of your business. You should specifically pick the category that represents your business best.
In the next step, they will ask for your website address and business phone number. This is optional so you may leave it if your business doesn't have a website at the moment.
Now, click on the finish button. In the next step, you have to verify your business location. You can do it later at some point and leave it for now if you want. However, unverified business listing won't appear in local searches or maps. So, it is important to verify your business listing.
Enter your contact name, and they will send you a postcard by postal mail on the business address that you gave when creating a business listing. You will receive a postcard from Google within 14 days. So, wait for the postal mail and keep your mailbox checked for the letter from Google.
Once you receive the letter, you will find out a verification code. You need to enter that verification code after logging in to your Google Business account.
What if Your Business is Already Listed on Google Maps?
If your business location is already on Google Maps then you can claim this business location.
Open Google Maps and search for your business name.
When the knowledge panel appears, click on the "Claim this business" button.
In the next step, click on "I own or manage this business".
Select a verification process and follow the steps provided.
How to Fill Out Your Google My Business Listing?
So, when your listing is verified it is time to optimize your business listing. You need to fill out all the information and make sure that it is accurate. For example, don't lie to people that your business operates 24/7 when it's not. So, let's see how we can optimize it.
From your Google My Business dashboard, click on the "info" link from the left sidebar. It will load a new page, here you can fill out your business listing info.
Add Hours: Add your business hours accurately and tell your customers about the days you open your store/office.
Add Phone: Enter your business phone number so customers could contact you and ask questions.
Add Website: Enter your website address, so if someone need more information about your business they can get it.
Services: If you're a service provider add your services, price, service name, and description. Make sure that you use proper keywords (queries that people search on Maps and Search).
Products: If you sell physical products then enter as many products as possible including the price.
Business Description: Add more information about your business, what makes you different than your competitor. You can rephrase about us page from your business website and add it here. It is important that you fill out this information so that people can understand your business.
How to Rank Your Google My Business Listing higher?
Ranking your business listing on your business keywords is important. So, make sure to add all the important keywords in your listing description. It will help Google to send qualified traffic which is interested in buying your product or services. Here are a few more tips to optimize your business listing for higher rankings.
1. Verify Your Business Location
Since in this tutorial, I have already explained why you need to verify your business location, I won't explain it again. However, I'd recommend that you verify your business listing or it won't appear on Google.
2. Add Complete Data about Your Business
If you haven't filled out complete information about your business, Google won't rank it higher. so, you need to fill out all the important information such as your business hours, physical address, phone number, category of your business, and attributes.
3. Get More Reviews from Your Customers
So, as it is apparent that now your customers can leave a review after buying your services or products. Make sure that you improve customers satisfaction by going an extra mile. A few bad reviews might affect your business ranking on Google (especially if it's new). So, contact your best customers and encourage them to leave feedback about your services so that you can improve your service quality.
4. Respond to Your Customers
It is not a strategy I see often applied by many businesses. Google recommends that it is important to respond to your customers. Also, it is a good business practice to acknowledge what your customer has to say about your business. So, even if the review is negative in nature you have to respond to it and explain why you couldn't fulfill customer's expectation.
5. Add Photos and Videos
Add high-quality images and videos to your business listing which shows customers your goods and services. Your customers can also add photos and videos to your listing by just visiting your Google Business listing page. Add your business photos to showcase your products and services to people who are looking for what you offer.
6. Add Your Business Location to Your Site
Make sure that your business location is properly shared on your website. Here's how to do it the right way.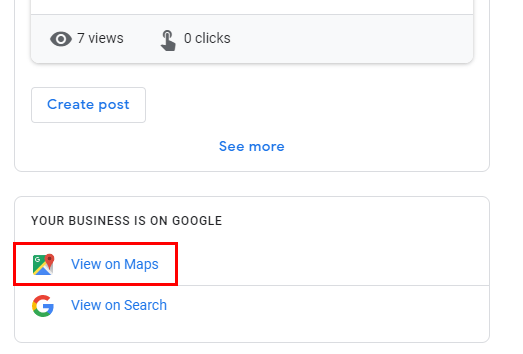 Log into your Google My Business account and click on the link View on Maps. It will open up your business listing page on Google Maps.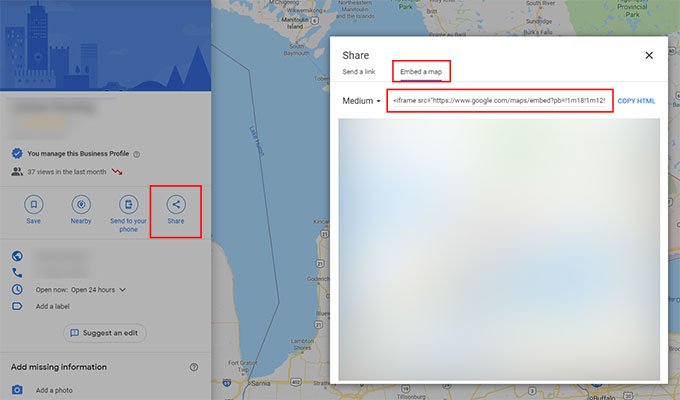 Click on the share button and it will open up a new window. In the second tab of this window click on Embed a map. Now select and copy the iframe code given there.
Add this code to your website about/contact page.
7. Improve Your Website Ranking
If you want to rank business listing for let's suppose "interior designer London" you should first rank your website on the 1st page on that keyword. It is a good indicator that a business is well-established online.
You can improve your website ranking by getting more backlinks and optimizing your site pages for important business keywords.
8. Add Post to Your Business Listing
By creating a new post and keep your customers updated on the latest discounts and offers is a good way to get a quick boost in the ranking. You can also add a call-to-action such as a button to call you or read more. There are countless ways you can add content using a post option. Make sure to also include an image or a video to grab the attention of the user.
There are other countless ways which you can use to promote your business online. If let's suppose the above method doesn't work for you for any reason then you can always try out Google Ads, SEO, social media marketing, and, other countless methods.
I hope you found this post useful. Let me know in the comments what's your experience with Google My Business.