Looking for free stock photos or stock videos to make your business blog posts entertaining? I have compiled a list of best free stock photo and stock video websites that you can use to find entertaining and relevant images for your blog posts, landing pages, or you can use them as your desktop backgrounds.
32% of marketers say visual images are the most important form of content for their business, with blogging in second (27%). It is definitely a great way to promote your business online and deliver a message to your audience.
Make sure to compress images before uploading them to your website. So, your website could load faster. Also, you can keep your images optimized by following this image SEO guide.

Images make any boring stuff interesting. So, if you don't use images in your blog posts, it's a good time to start. Here are some stock photo websites that I use on my projects, and I think you will find them useful too.
Best Free Stock Photo Websites 1. Pexels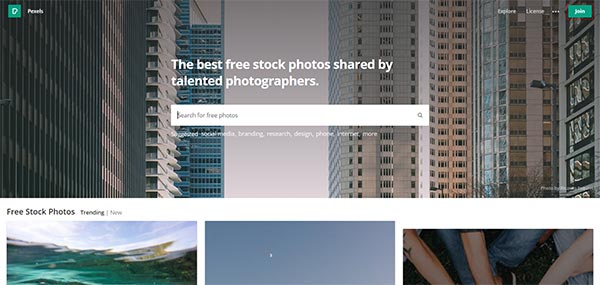 This is one of my favorite websites as it is quite fast to load. It has a huge collection of free stock photos and it gets updated on a daily basis. All the photos shared on Pexels are under Creative Commons license. They are free to use for any personal and commercial purposes.
2. Pixabay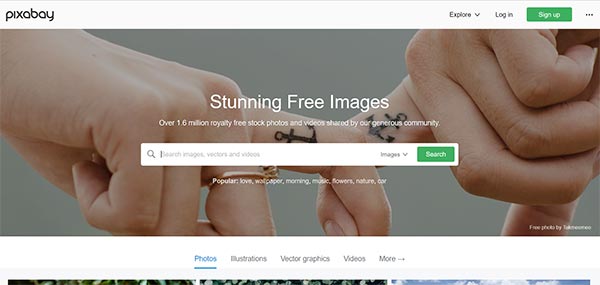 Here is another great website which has a huge stock photo collection. You can search for images, vectors, and videos too on Pixabay. You can use those free stock videos to run in the website's background or anywhere you like. Images and Videos on Pixabay are released under the Creative Commons CC0 license.
You can download images, videos, and vectors for commercial and non-commercial purposes without any attribution or a link back.
3. Unsplash
Unsplash is a platform fueled by a community that has generously gifted hundreds of thousands of their own photos.
All the stock images on Unsplash are free and can be used for personal and commercial purposes. They have a huge collection of stock photos and it is updated regularly. So, try it out while it is free.
4. British Library on Flickr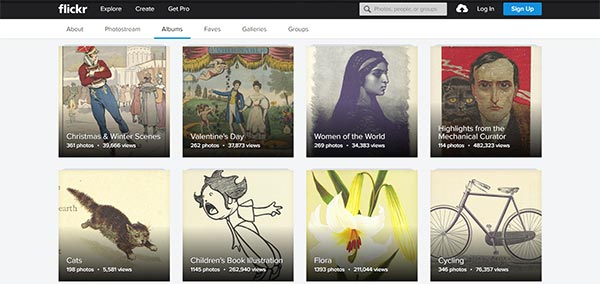 If you want to give an artistic flavor to your blog post or you just write about art, check out The British Library Flickr account to find images from old advertising, illustrations published in newspapers and magazines. They are free to use for commercial and personal purposes.
5. Old Book Illustrations
Old Book Illustrations was born of the desire to share illustrations from a modest collection of books, which we set out to scan and publish.
As the name is suggesting, this is a website to find illustrations published long ago. It is a free stock photo website but you cannot use it for commercial purposes. Images shared on the website under Attribution-NonCommercial-ShareAlike 4.0 International license. So please read the terms of use here.
6. Negative Space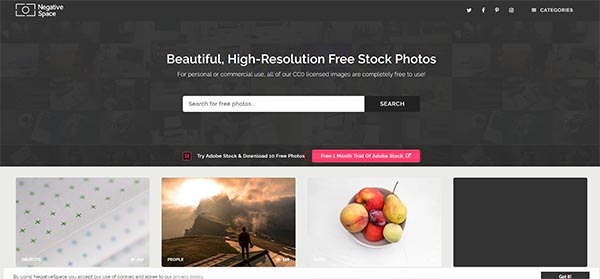 It's a community-based website where professional photographers upload their work and you can use all those images for free. Stock photos from negative space are free to use under a Creative Commons CCO License.
You can read more about their license and terms here.
7. Picjumbo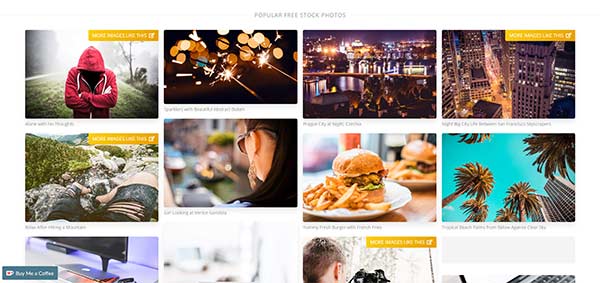 Stock photos shared on Picjumbo are free of charge with no watermark and can be used in both personal and commercial projects. It is one of the popular stock photo sources for very high-resolution images.
You can read more about their license and terms and conditions here.
8. Kaboompics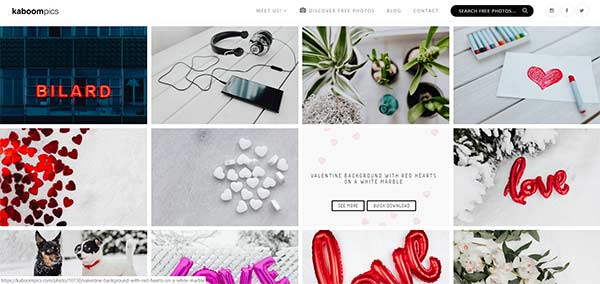 A web designer from Poland is the creative eye behind this awesome resource for high-quality stock photos. You can use photos on this website for free for commercial and non-commercial use. Attribution is not required. You can also modify and make changes to the photos as you like.
Giving credit to the Kaboompics is not necessary but always appreciated. You can read more about their license here.
9. Freerange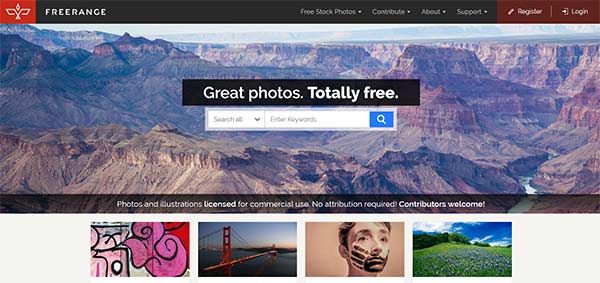 This is another great stock photo website to put in your stock photography bookmark list. Most of the images shared on this website are by the team of photographers.
You can use any image from this website for both commercial and non-commercial use. However, you cannot sell products which derive their primary value from the image. You can read more about their license here.
10. Libreshot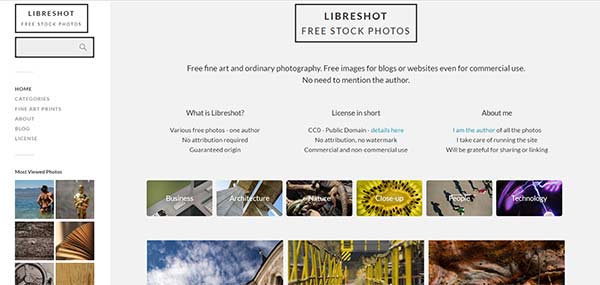 This website is run by Martin Vorel. It is a project that contains free stock photos for private and commercial use. You can use any photos without attribution.
All photos on this website, are licensed under a Creative Commons Public Domain. You can copy, modify and perform the work, even for commercial purposes, all without asking permission. You can read more about the license here.
11. StockSnap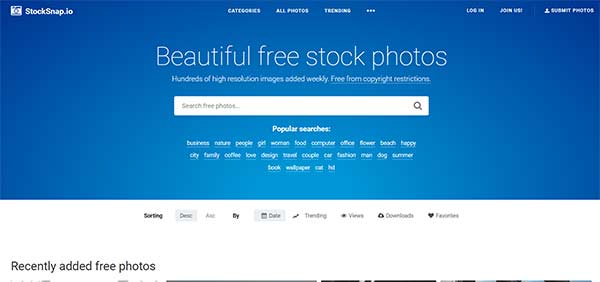 Whether you're building a business website, creating a print brochure, crafting a digital or magazine ad, or some other brilliant creative project, you know that a great image helps your content transcend "good" and become "great."
The Creative Commons license that StockSnap uses is the CC0 license. Specifically, that license means you can do any and all of the following:
Download the image file
Publish, revise, copy, alter, and share that image
Use the image (as-is or as you've altered it), in both personal and commercial contexts
12. SplitShire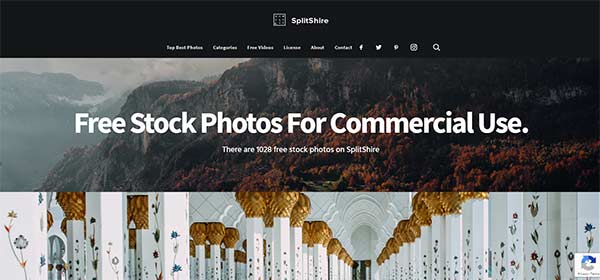 In the name, SplitShire has hidden the philosophy which gave birth to this whole project. The idea behind the concept is the symbiosis of two words where "shire" represents the county, a closed environment, for a few, in this case, related to copyright and "split" which represents sharing a piece of this county with everyone.
There licensing is a little vague but you can use images from this site for commercial and non-commercial purposes. You can't sell the photo as it is. The standalone version is given to you for free.
You can read more about their license here.
13. Fancycrave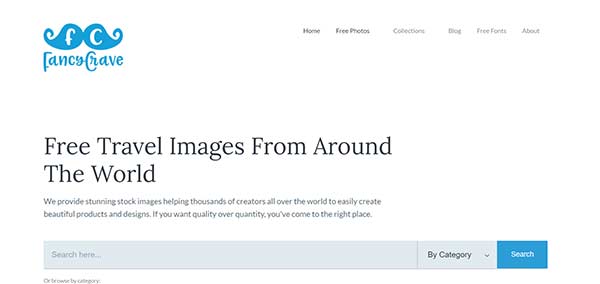 Igor Ovsyannykov started Fancycrave 3 years ago, completely from scratch. The goal was to help fellow designers, small businesses, students, bloggers, and online marketers who want to convey their message in style.
All images offered on Fancycrave can be used for free. You may use them for commercial and non-commercial purposes.
You can check out their license page for more information.
14. New Old Stock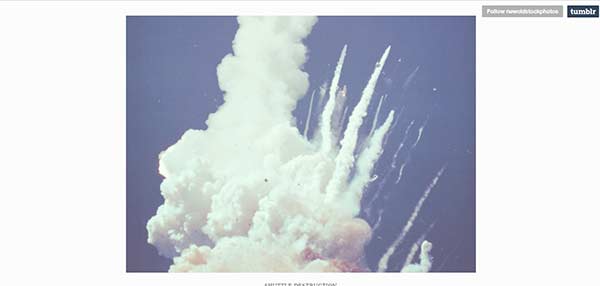 This is a vintage photography website. New Old Stock website share photos from the Public Archives. These images are free of known copyright restrictions. So, these can be used for commercial and non-commercial purposes.
You can read more about their licensing info here.
Best Free Stock Video Websites
Stock Videos can be used as a header background on a website or you can use some part of them in your video project.
1. Pexel Videos
Pexels Videos offers completely free stock videos. All videos are licensed under the Creative Commons Zero (CC0) license. This means you can edit or change the videos and use them free for personal and even for commercial projects.
All without asking for permission or setting a link to the source. So that attribution is not required. You can read more about their license here.
2. Pixabay
It is a vibrant community of creatives, sharing copyright-free images and videos. All contents are released under the Pixabay License, which makes them safe to use without asking for permission or giving credit to the artist – even for commercial purposes.
You can read more about their license here.
3. Videvo
It is another great free stock video website. Videvo offers free stock videos and motion graphics for use in any project. You may use these video clips free of charge, in both personal and commercial productions.
Video clips that carry the Creative Commons 3.0 license must be attributed to the original author. Read more about the licensing here.
4. SplitShire
This is a website where you can find free stock videos and photos. However, their license is a little vague. So, in terms of using any video from this website, you should contact the webmaster to ask for permission.
Get these blog posts in your inbox monthly