Last Updated on
If you plan to move your website from Wix to WordPress, this blog post is for you. I will show you exactly how to move your website to WordPress from Wix without losing its ranking. It doesn't sound effortless, but it is an easy process.
I suggest you carefully plan out the whole Wix to WordPress migration process. If you are unsure about it, you should do your research before starting the process. If website development and SEO are not your strong suit, you should consider hiring someone experienced.
Why Should You Move a Wix Website to WordPress?
Well, if you are reading this post, the chances are you have already made up your mind. If you need more convincing, then here are some of the benefits of moving Wix to WordPress:
Compared to Wix, WordPress is quite an SEO-friendly platform.
WordPress is an Open Source website builder, and Wix is a closed-source platform.
WordPress is accessible as a content management system, and Wix is not.
You have control over everything on WordPress
WordPress offers thousands of free plugins and themes
Before Moving Wix to WordPress, Buy a Hosting
Wix host the website on its servers. So, if you want to migrate your website from Wix, you must buy a separate hosting service to host your domain.
I recommend SiteGround hosting as their customer support is top-notch. You can also buy other hosting services.
Once you buy hosting, you must transfer your domain name from Wix to your hosting service.
Here's how you can transfer your domain from Wix:
Login to Wix and go to the My Domains page.
Select the relevant domain if you have multiple domains hosted with Wix.
Click the Advanced tab.
Press the button Transfer away from Wix
Click Send Code
Install WordPress on Your Website
Currently, there is no official Wix migration solution. It seems as if they deliberately made the migration process complex.
Nevertheless, it doesn't mean that you can't move it. It is possible. Perhaps it, A little challenging, but with the help of this tutorial, you can quickly move your Wix Website to WordPress.
After buying a new hosting, you need to install WordPress on your site.
If you use SiteGround, then they provide a one-click WordPress install option. So, installing WordPress on your website won't be an issue.
You will find WordPress Installer when you log in to your cPanel. Follow the instructions, if any, which will take a few minutes.
After installing WordPress, you need to copy your Wix website content, images, videos, and blog posts to WordPress.
Let me show you how to download all your website content from Wix.
Install a Theme on WordPress
It is super easy to install a theme on WordPress. However, you might need some skills in CSS, HTML, JS, and PHP to design pages.
You can download free WordPress themes from the WordPress themes directory.
If you want well-designed themes and customer support, then you can also buy a premium WordPress theme from these sites:
Once you have downloaded your theme on the computer.
Log in to your WordPress website by typing domain.com/wp-login.php in your browser's address bar. Replace domain.com with your actual domain name.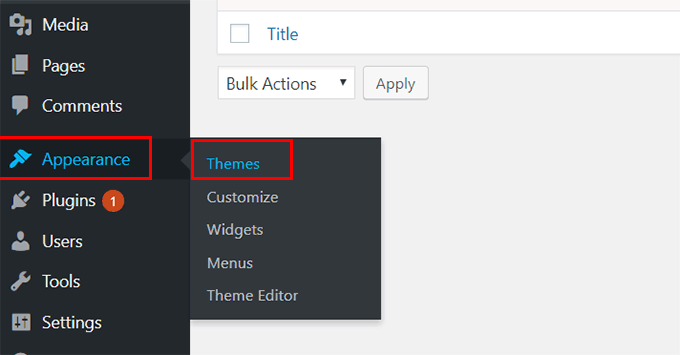 Now, bring your mouse to "Appearance" and click on "Themes."
On the next page, click on the "Add New" then "Upload" button.
Press the "Choose File" button and select the downloaded theme from your computer.

Now, click on the Install button. It will take a few seconds and redirect you to a new page.
Click the Activate button, and your theme is installed on the website.
Move Your Pages from Wix to WordPress
Unfortunately, there's no automated solution to transfer your site pages from Wix to WordPress. So, we need to copy all the existing pages from Wix to WordPress manually.
Manually copy text from Wix to your WordPress site pages.
In WordPress, you can create a page by bringing your mouse to Pages and clicking on the "Add New" button from the sidebar options.
Copy and paste all the content from your Wix pages to WordPress. Once you are done, click on the Publish button.
Move Blog Posts from Wix to WordPress
You can quickly move blog posts from Wix to WordPress. Here's how:
Type your domain, and at the end of your Wix site URL, add /feed.xml. Please see the example below:
https://domain.com/feed.xml
or
https://domain.com/blog-feed.xml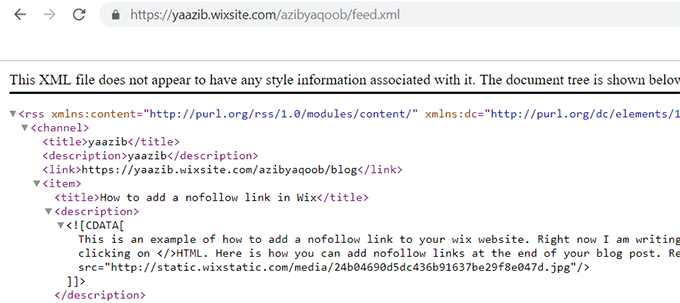 Save the page if you see a page like the above screenshot on any of the feed URLs. Right-click on the page and save to download this XML RSS feed to your computer.
Now, log in to your WordPress admin area. From there, bring your mouse to Tools, then click on the Import button.
Here you will find an RSS import tool. Click on the Install link. Wait for a while, then click on the link Run Importer.
Click the "Choose File" button on the next page and upload the XML file we downloaded earlier. Click on the upload and Import button.
Uploading all your blog posts from Wix to WordPress will take time. However, this tool won't upload all the images you added to the posts. For that, we can use another method.
Move all the images from Wix to WordPress.
Don't worry. You don't need to upload each image individually from Wix to WordPress. In WordPress, you can easily upload blog images by installing the plugin Auto Upload Images.
Log in to your WordPress admin area. Bring your mouse to the Plugins option in the sidebar. And click on the Add New button.
Now, search for this plugin, "Auto Upload Images."

Click on the Install button and wait for a while. Now, click on the Activate button.
Move your mouse over the sidebar on "Settings," then click on Auto Upload Images. It will open up this plugin setting.
Here, you don't need to make any changes. Scroll down to the page and press the Save Changes button.
Now, you need to update all your posts and pages which contain those images.
Go to posts > All posts. Click on the Screen Options button at the top.
Increase the number of items per page to 999 and click the Apply button.
Select all your posts and click on the Edit button under the Bulk Action menu.
Click on Apply, then the Update button.
All your posts will be updated with the images. You can repeat this process to upload images to your pages. Instead of going to bars> All posts, you must go to Pages > All pages. Other steps would remain the same.
Once you move Wix to WordPress, you might want to improve WordPress SEO; for that, you can install a plugin such as Yoast SEO. Other than that, here are additional WordPress plugins for SEO that can further help you boost your site ranking.
Or, if you think that this is too much work, you can also check out my Wix SEO tips to boost your existing SEO.