Competitors backlinks analysis is an important part to grow a backlinks profile of any website. Improving backlinks quality and quantity will increase organic search ranking. There are many strategies to find competitors backlinks. In this guide, I am going to tell you how you can find out your competitors' backlinks easily with the help of some tools.
Most backlinks audit tools are paid or if free comes with limited functionality. Also, not every small business can afford to buy all the link building tools especially if a business is new with limited funds. That's why I have mentioned mostly free backlinks analysis tools.
If you need to step up your link building game then check out my latest link building techniques.
Why Should Your Perform a Backlinks Analysis?
You can do backlinks audit for different purposes. Sometimes, you may have to find backlinks your competitors are creating in order to rank higher in search.
Alternatively, sometimes a backlink audit can help if a website affected by Google algorithm penalty. If that's the case, then you can remove negative backlinks with this simple tutorial.
Tools to Perform a Competitors Backlinks Analysis
Here are some of the best free & paid backlinks analysis tools to find out competitors backlinks. It will help you develop a better link building strategy.
However, none of these mentioned tools is perfect, there are some pros and cons of each backlink tool. You can use any combination of these tools to find relevant data and have a great understanding of your competitors' backlinks. Use them to research and improve your own backlink strategy.
1. BacklinkWatch (Free)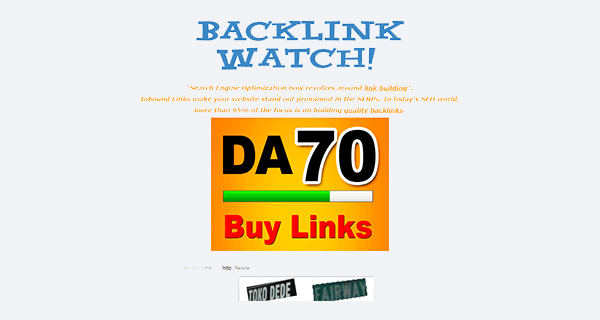 This is a free backlinks audit tool. Adding a competitors website URL will give you a lot of top backlinks they are getting on the websites. However, it is not as comprehensive as any paid tool.
If you are tight on the budget you can get some of the backlinks data of your competitors. You can get top referring domains, and backlinks OBL, and PR.
2. Google Search (Free)
You can use Google search to find some backlinks. However, it is not a recommended method since Google long ago stopped showing backlinks using search operator: link:domain.com .
If you cannot afford to buy any link building tool, you can use this search operator in Google: link:domain.com replace domain with your competitors URL.
3. SEOquake (Free)
It is a stand-alone browser plugin you can use on Mozilla Firefox, Google Chrome, Opera. It is a completely free plugin and can provide a lot of useful data to improve SEO.
To do a backlink audit, you may need to create and connect an account on Semrush. After that, You can search your competitor's backlinks, top referring domains, trust score, etc…
4. Semrush (Paid)
If you have extra budget to spend on SEO, this is a great tool to have. You can find out quite accurate data of any website. This is a paid tool, however, they offer a free trial with limited functionality.
This tool provides a lot of backlinks information, anchor texts, referring domains, referring IPs, trust score, and more.
The Process of Finding Competitors backlinks
The simple way to find competitors backlinks is through manually searching competitors and their keywords. You should consider these points when performing a competitor's backlinks analysis.
Find Out Top Competitors
The first obvious thing you need to do is find out top competitors. The easiest way is to search your top keywords on Google and find out as many top competing websites from those searches.
You can download search results by using SEOquake. Keep all these competitors website in an excel file.
Top Referring Domains
Now use any of the backlink audit tool or all to collect backlinks intelligence. Look for their top referring domains, these could be websites which they are getting most backlinks from. Either they have some sort of partnership with the webmaster of the website, or they have created those backlinks by themselves.
Collect all these domains and keep them in an excel sheet in 1 column.
Anchor Text Competitors are Using
Now collect all the anchor text they are using to create backlinks. It will give you complete data which keywords they are targeting to improve ranking in search.
Finding your competitor's anchor text usage can identify some keywords which are easier to target in your SEO campaign.
Backlinks Pattern
Check backlinks how they were created. Whichever strategy is most used amongst competitors can be one of your top priority as well. Let's say if all the competitors made backlinks through guest posting on particular websites, then it is a great opportunity for you to utilize as well.
Reach out to those bloggers through email, social networks or through local events. First, develop relationships by doing favors or helping them. After a while, you can send them your article idea.
Pages Getting Most Backlinks
Find out top pages on each competitors website are getting most backlinks. It's vital to develop a better content strategy as well. You can find out top pain points of your audience and you can use that information to provide better and more engaging content that your competitors failed to produce.
Competitors backlinks information can help your own website's SEO strategy. You can use some of those websites to get backlinks from, however, this advice doesn't work for most websites as some industries use extreme SEO tactics and create their own private blog networks for the purpose of link building. In any case, you can still find out websites, anchor texts and keywords your competitors are targeting which you can use in your SEO campaign.
You can also use these social media competitor analysis tools to spy on your competitors' social strategy.
Let me know your thoughts in the comments below.