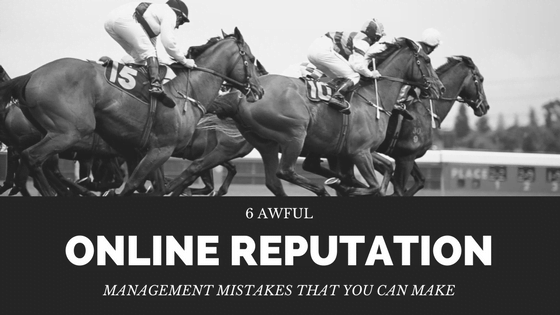 When it comes to online reputation management, there is a great risk of making mistakes that put your reputation in danger.
Every business and individual should be aware of online reputation. It can topple governments, change lives of the people for better or worse.
From last couple of years we have been seeing news stories about online reputation influencing ordinary people's lives to something extraordinary.
On the other hand, it can sometime ruin career of people and affect their lives. There are countless such stories you can find on your quick Google search.
This is why online reputation is important to do no matter who you are or how small your company is.
When people try to do online reputation management by themselves they sometimes make mistakes which put their career or business to an end.
You don't have to do it yourself unless you are learning from an expert and trying to do things in your own way.
[box] I offer online reputation management services in affordable prices. If you want me to take a look at your case please feel free to message me.[/box]
Avoid these online reputation management mistakes as much as possible:
As I have already discussed this in my other post. However, this is a very important and biggest mistake you would make.
Because, it is too much risk to put on your brand name. Negative SEO gives different outcomes to different people and different styles of campaigns.
It sometimes give results like in matter of days or sometimes it make the negative results on the 1st position on every relevant keyword to your business.
In my opinion, you should not risk it when it comes to your online reputation. There are other alternative strategies which are giving far better results than negative SEO, so why bother, right?
Also, please check out my article on similar topic: SEO mistakes to avoid in 2017
Not forming an online reputation management strategy
I see people with no sense of direction get confused all the time. This is why I think it is important that no matter what you do you should form a sound strategy.
Sure, it would take some time to develop a strategy but it will save you a lot of trouble in the future when you are working on your reputation management campaign.
There are a few things which you can do to create a great online reputation management strategy. Please give it a read to my previous article:
Fix your Damaged Online Reputation
Buying Fake SEO and Reputation Services
I understand that everyone cannot afford high end services or products all the time. Sometimes we need to cut a budget on things which we think can be manageable and does not put any harm to us at near future
But you could be wrong. There are so many fakers who would take benefit of your unawareness on the Internet.
And sometimes it get even worse, when you hire people who are claiming to be superstar but they use shaddy and undisclosed tactics which are no good if you want to consider a long term solution.
So, what I'm saying is when it comes to online reputation management you should at least do thorough research before buying reputation management services.
Submitting more information on negative search results
Never submit or even open negative search results. It will improve their CTR, which may impact in higher ranking in Google Search. Google don't disclose everything but what I have experienced and read it is one of the ranking factors.
Never try to add your comments to these websites. These websites are not there to help you nor they have any intentions like that.
Most of the times these websites stay live on the Internet by asking hefty chunk of money in order to remove a listing.
So, it is pointless to ask or comment on such a platform. Just forget that it exist. Instead focus your attention to dealing with the real problem which your online reputation is vulnerable and you should always look to improve it further.
Content creation is the big part of any online reputation management campaign. When it comes to online marketing of any sort, content will always be the king.
Whenever you start a new online reputation management campaign, then make sure to develop a content development strategy.
In some cases, great content strategy will give you better results than the SEO campaign.
Also, make sure to optimize your content according to your keywords. Don't over optimize the content otherwise it won't rank better.
It is important that you use all mediums, social media, blogs, forum websites that you can think of relatable to your business profession.
Use your name or a keyword which is affected by negative results in your content marketing.
Linking to negative search results
Never link back to negative content that you want to be removed or pushed down. It will improve the ranking of that website in Google search. Also, avoid mentioning those business names with your name.
This happened to some of my clients when they were trying to tell their stories in forums and groups asking people to help them.
Guess what? Their stories started showing up in search results on their name where they want to remove a particular result from the search.
—–
If you are tired of all this negative publicity, don't just lose hope yet. You can do this if you keep trying. Slow progress is better than no progress.
If you want to learn more about how to actually manage your online reputation, then read my other articles on my blog.
It is better if you spend some time learning online reputation management. When you think you are ready then it is time that you start the campaign.
Without good planning, you will fail to achieve the desired results. Let me know what do you think in the comments below.